KAWANO MEMBERSHIP
Join now to receive benefits!
Created: April 25, 2019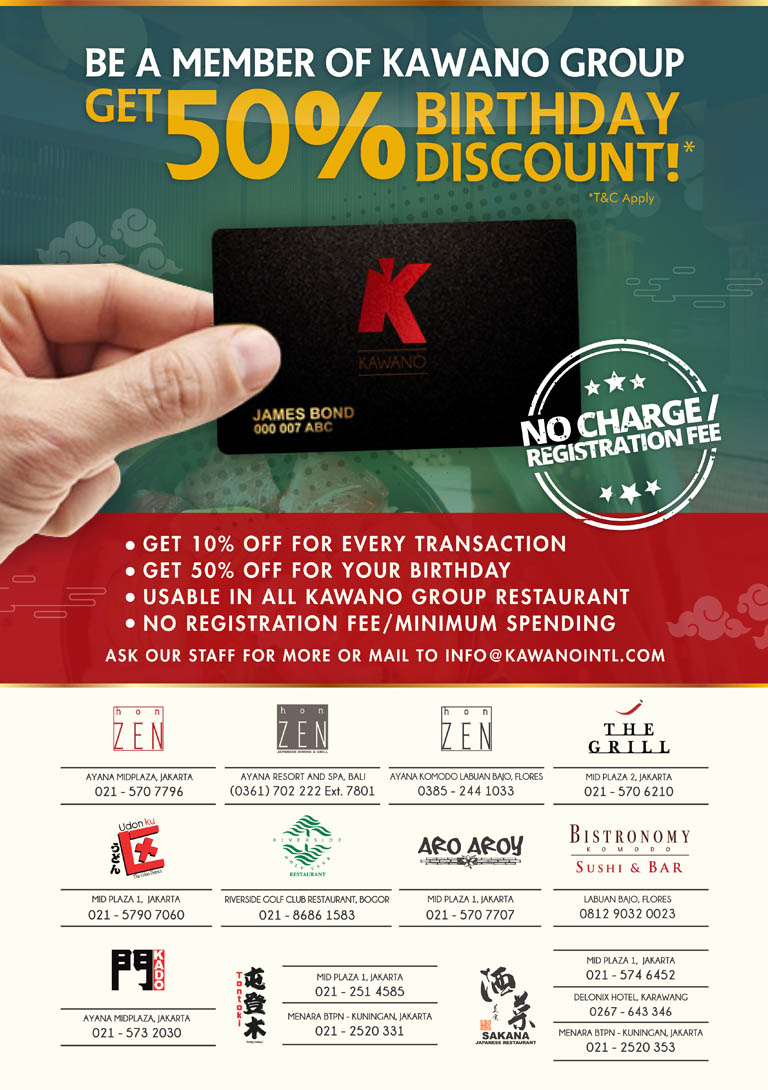 JOIN KAWANO MEMBERSHIP!

Warm greeting from KAWANO GROUP
We are calling out all the foodies out there to join our membership and enjoy all the amazing benefits.
GET 10% OFF FOR EVERY TRANSACTION
GET 50% OFF FOR YOUR BIRTHDAY
USABLE IN ALL KAWANO GROUP RESTAURANT
NO REGISTRATION FEE/MINIMUM SPENDING
• YOU HAVE TO BE AT LEAST 17 YEARS OLD TO OWN A KAWANO CARD
• YOU CAN USE YOUR BIRTHDAY PRIVILEGE ONE TIME ONLY IN ONE OF KAWANO
GROUP RESTAURANTS
• RESERVATION IS REQUIRED AT LEAST 1 DAY BEFORE. PLEASE TELL OUR STAFF THAT
YOU WANT TO USE YOUR BIRTHDAY DISCOUNT DURING THE RESERVATION.
• 50% DISCOUNT APPLY FOR ALL FOOD & NON BEVERAGE ALCOHOL
(NON-PROMO ITEMS) AND 10% OFF APPLY FOR ALCOHOL BEVERAGE
BEFORE TAX AND SERVICE
• YOUR BIRTHDAY DISCOUNT IS USABLE WITHIN 7 DAYS
BEFORE YOUR BIRTHDAY – 7 DAYS AFTER YOUR BIRTHDAY
• BIRTHDAY DISCOUNT IS USABLE ONLY ON DINNER TIME (WEEKDAY) AND BOTH
LUNCH/DINNER TIME ON WEEKEND, DEPENDS ON EACH RESTAURANT'S
OPERATION SCHEDULE (FOR THE GRILL, THE DISCOUNT IS ONLY USABLE
ON MONDAY – THURSDAY DINNER TIME)
• THERE IS NO MINIMUM SPENDING NEEDED. HOWEVER THE MAXIMUM SPENDING IS AT IDR 4.000.000 BEFORE TAX AND SERVICE.
ANY PURCHASE BEYOND THE LIMIT WILL BE CHARGED IN NORMAL PRICE
• STRICTLY ONLY FOR THE MEMBER WHOSE NAME IS WRITTEN ON THE CARD
• CANNOT BE CLUBBED WITH OTHER DISCOUNT/PROMOTION
• ONLY APPLY FOR ONE TRANSACTION. SPLIT BILL IS NOT PERMITTED
No need to think twice, get your membership now